About MECT
MECT is going to be the biggest machine tool show in Japan, 2021. It is held in autumn every two years at Port Messe Nagoya (Nagoya Int'l Exhibition Hall) in Nagoya and is the biggest machine tool show in odd-numbered years. The 17th MECT which was held in 2019 attracted 477 exhibitors and organization occupying 1,941 booths and over 90,000 visitors attended.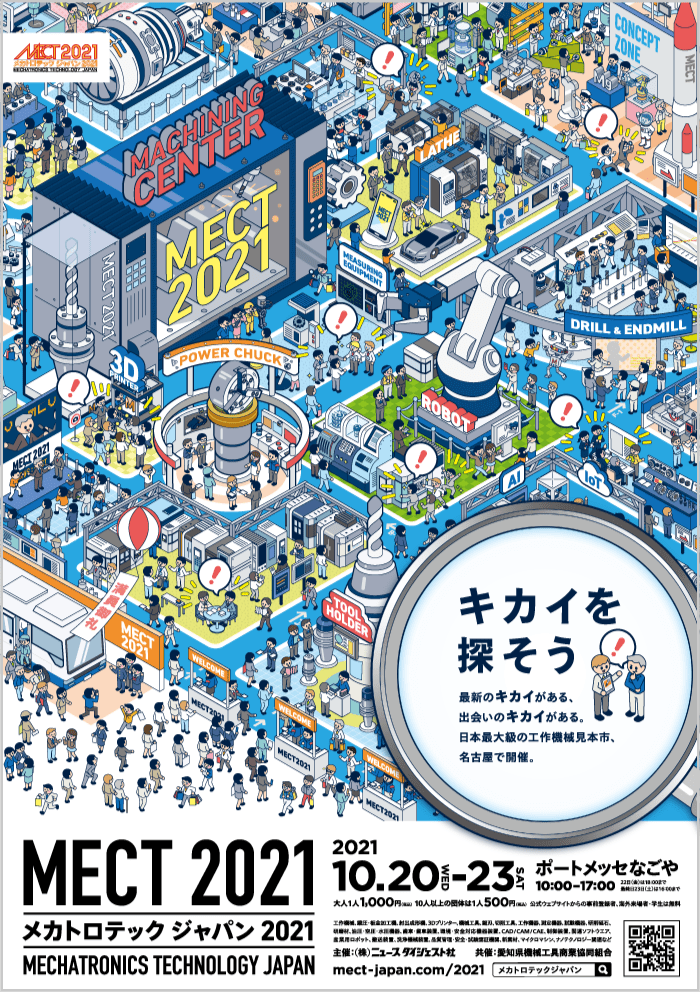 MECT2021 Outline
Name of exhibition
MECHATRONICS TECHNOLOGY JAPAN 2021 (MECT2021)
Date
October 20th (Wed.) ~ 23th (Sat.), 2021
※October 22th (Fri.) 10:00~18:00
※October 23th (Sat.) 10:00~16:00
Venue
Port Messe Nagoya (Nagoya Int'l Exhibition Hall)
Hall 1, Hall 2, Hall 3
Number of booths
1,700 booths
Estimated number of visitors
80,000
Entrance fee
JPY 1,000 for general domestic visitors
(Free for pre-register, overseas visitors, students and invited guests)
Organizers
News Digest Publishing Co., Ltd.
Co-organizer
Aichi Industrial Distributor's Association
Supporting Organizations
Ministry of Economy, Trade and Industry/ Ministry of Foreign Affairs of Japan/ Ministry of Education, Cultures, Sports, Science and Technology in Japan/ Japan External Trade Organization(JETRO NAGOYA)/ Aichi Prefectural Government/ City of Nagoya/ Nagoya Chamber of Commerce and Industry(random order)
Special cooperating organization
JMTBA-Japan Machine Tool Builders' Association/ Japan Tool Distributors' Association (random order)
Cooperating Organizations
Japan Forming Machinery Association/ Japan Precision Machine Association/ Japan Robot Association/ Japan Machine Accessory Association/ Japan Precision Measuring Instruments Manufactures Association/ Japan Optical Measuring Instruments Manufactures' Association/ Japan Cutting & Wear-resistant Tool Association/ Industrial Diamond Association of Japan/ Japan Machine Tool Distributors Association/ Japan Machine Tool Importers' Association/ Manufacturing Science and Technology Center/ Japan Industrial Saw & Knife Association/ Micromachine Center/ Japan Die & Mold Industry Association/ Japan Institute of Logistics System/ The Japan Electrical Manufactures' Association/ Japan Fluid Power Association/ Micromachine Center/ Japan Institute of Logistics Systems/ Nippon Electric Control Equipment Industries Association/ Japan Industrial Conference on Cleaning/ Japan Grinding Wheel Association (random order)
Exhibits
Metal cutting machines/ Metal forming machines/ Injection Machines/ 3D printer/ Tools for machines/ Cutting blades/ Cutting tools/ Precision measuring instruments/ Testing machines/ Grinding wheel/ Polishing agent/ Oil, air and water pressure machines/ Geer, geer devices/ Environmental protection devices/ CAD/CAM/CAE/ Controlling equipment , software/ Industrial robots/ Transferring machines/ Hydraulic machines/ Quality control, safety, testing/ New materials/ Micromachinery Nanotechnology and related equipments
※If the organizer admits that it is not suitable as an exhibit, we may refuse exhibits.