Why Exhibit?
MECT is the machine tool show started in 1987. It is held in autumn every two years at Port Messe Nagoya in Nagoya city and is the biggest machine tool show in odd-numbered years. MECT2021 attracted 426 companies and organizations occupying 1,795 booths and over 70,000 visitors attended.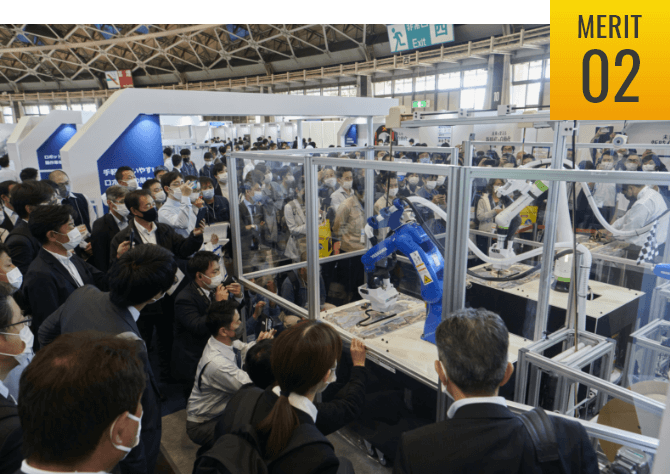 manufacturing area - CHUBU!
CHUBU is very famous as the area where many leading automakers (TOYOTA, HONDA, MITSUBISHI, SUZUKI, etc.) and auto parts manufactures (DENSO, AISIN, etc.) are concentrated in. Moreover the latest products and technologies can be directly appealed to the market in the Chubu where various manufacturing industries such as automobiles, aerospace and general machines are concentrated.
Cooperation with Aichi Industrial Distributor's Association lead many visitors through their customer network. In addition, because of opening on Saturday, SME visitors who are very difficult to come to MECT on weekdays can visit. It is useful not only for business negotiations directly related to orders, but also for finding new customers.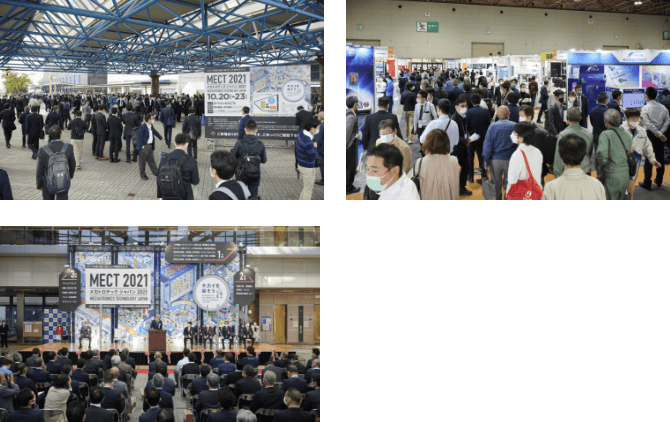 The reason why many visitors come to MECT
Demonstration of the latest technology
Every time, MECT organizer offers the demonstration of the latest and greatest technology at the concept zone. The theme of 2021 was "Automation". You will be able to see and experience the latest technology and find ideas that are useful for your business.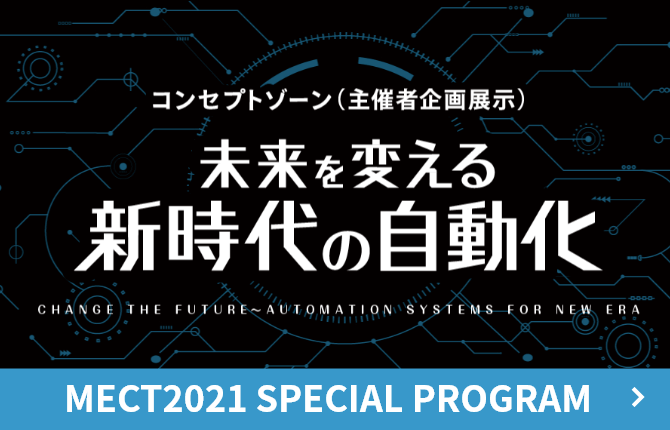 The close connections with local machine tool trade companies
The Aichi Industrial Distributor's Association collaborates with us to mobilize visitors. Also the Japan Tool Distributor's Association has joined MECT as special cooperating organization. We give our best to gather people from all over Japan.
Valuable seminars by key person and engineers
You can listen to hot topics from the Machines Tool business world at the seminar and symposium. So far, many key person have given presentations about the automobile and aerospace industries at MECT. You can also listen to presentations about the latest technology from Exhibitors at the "Exhibitor's Work Shop" at the venue. Find the way to resolve the problem in this exhibition.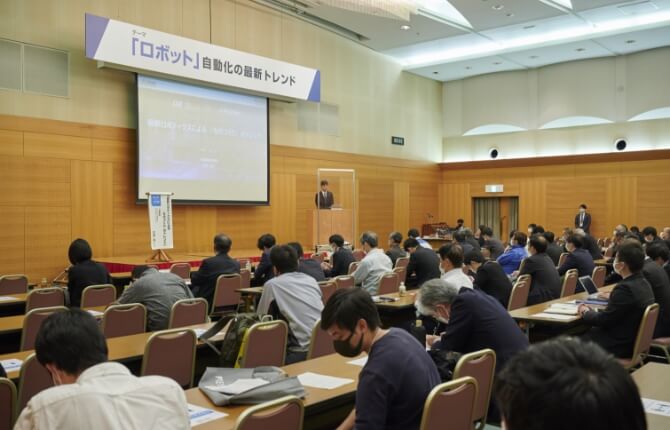 Record of MECT
MECT
2011
MECT
2013
MECT
2015
MECT
2017
MECT
2019
MECT
2021
Number of exhibitors
365
464
444
457
477
426
Number of booths
1,490
1,747
1,915
1,933
1,941
1,795
Dates
9/29
~
10/2
10/23
~
10/26
10/21
~
10/24
10/18
~
10/21
10/23
~
10/26
10/20
~
10/23
Number of visitors
83,057
93,741
94,124
92,305
90,244
68,929
MECT2021 was held with approximately 10% less exhibit space in order to widen the aisles as part of the measures against new coronavirus infection.
Promotion
We make a lot of effort into promotion to mobilize many visitors form many fields. Over 500,000 direct mail were delivered for MECT2021. We also advertised in newspapers, magazines, trains, and main train station in Chubu and promoted in TV and radio commercial.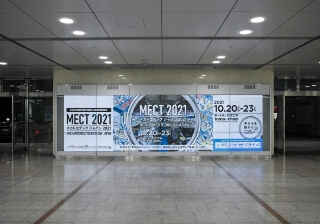 Strong mobilization from Mikawa area
Free shuttle bus from Mikwa area – one of the important area of automobile industry – every 25 minutes was serviced by MECT.

Machine Tool Top Seminar
MECT organizer actively mobilize students from graduate college, university and specialized high school over Japan. Seminar program for students called "Machine Tool Top Seminar" is held by JMTBA which is special cooperating organization of MECT to introduce attractiveness of working in machine tool industy during the event. ※The event was held online 2021.